The Chatsworth Animal Clinic brand was born out of a "Right place at the Right time" moment.
As a new graduate with no job prospects, the opportunity to purchase this ailing clinic was a gamble for Dr. Ramona Rambally.
Fortunately, the previous owner had left behind 3 exceptionally well-trained staff, with the right attitude, to make the practice grow into what it is today.
From humble beginnings in a little basement shop to a warehouse to the property that stands today, the wonderful community has played an important role in our development.
In return, the growing number of staff have committed to practicing the very latest medicine and health care by attending progressive lectures and management courses. We are striving to always provide the best we can, in terms of technology, by offering clients digital radiography facilities and in house laboratory equipment.
The needs of the community are constantly changing. This means that we've had to adapt accordingly; by increasing the business hours, by providing mobile and transport services, and offering an increasing number of services ranging from boarding to grooming.
Receptionists are trained to help clients with dietary advice, pet behavior and training, general husbandry queries and often as a shoulder to cry on when a beloved pet dies or is euthanized.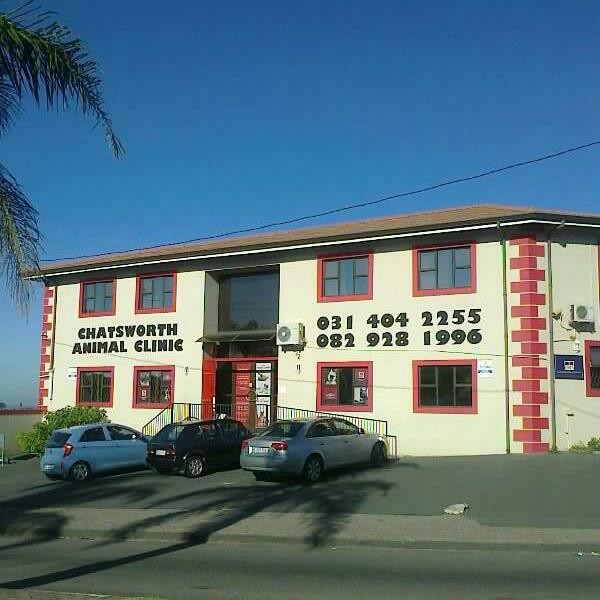 Due to the combined efforts of staff and community, the Chatsworth Animal Clinic has been able to support many non-profit organizations:
The Cats of Durban sterilization campaign
Helping Paws
Muscular dystrophy foundation
Feel Good Funding
The schools in the community in their various charity drives
P.A.W. Phoenix Animal Welfare
Kitty Angel Rescue
Project Dog
Friends of Paws
Most importantly, through our own in house policy of "Adoption Is The Only Option" – we re-home all strays that find their way to our doors.
The Chatsworth Animal Clinic is a family and we do our best to make you and your pet feel at home.